EUROPEAN NETWORK OFFERING A WIDE RANGE OF FILMS
BERNHARDT works with the best suppliers of multi-layer film in Europe.
We can therefore offer our customers a wide range of films to ensure we use the right one for their needs, in terms of barrier strength, chemical compatibility, mechanical strength, functionality and price.
Moreover, all our films are food contact compliant and we can also propose pharmaceutical or medical grade films.
Also, the packaging we manufacture may be either neutral and labelled at the time of filling, or ready-printed (by rotogravure and flexographic printing).
BERNHARDT keeps a constant stock of unprinted raw materials so as to be able to respond quickly to urgent orders and keep your production process running smoothly.
LAMINATED AND CO-EXTRUDED FILM
This is where having versatile production equipment gives Bernhardt the edge, providing you with packaging solutions using laminated and co-extruded film..
Laminated film is composed of multiple layers of film bonded together with an adhesive. It thus provides a first-rate barrier combined with high mechanical strength.
Co-extruded film is manufactured by assembling compatible polymers in one step with no use of adhesives.
This provides an ideal solution for products which are prone to migration or which favour the migration of solvents between layers.
COMPOSITION OF OUR MULTI-LAYER FILMS
Sealable in-layer in contact with the product:
Polyethylene
Polypropylene
Non-sealable protective out-layer:
Polyester
Papier blanc ou Kraft brun
Polyamide
Polypropylène
Intermediate layers (one or more) offering an extra barrier and/or greater mechanical strength:
Aluminium
Polyamide
Additives (EVOH, SiOx, AlOx, metallizing systems)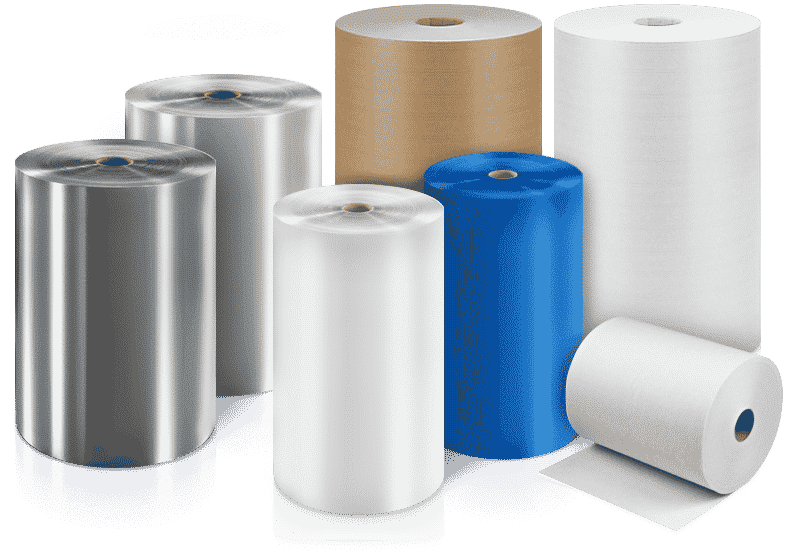 LARGE CHOICE OF FITMENTS
All our films can be fitted with spouts, valves or caps to facilitate filling and/or use of the products contained inside..